Iceland took part in the second edition of the Europa Song Contest which was hosted by the country in Oldenburg. The country was represented by Birgir with the song "Last For Long". The entry was be selected via the broadcaster of the country, RÚV. The song failed to qualify because got the 14th place in the semi-final with 55 points.
Before ESC
It was announced that the entrant would be revealed, together with his song, on April 20.
Internal Selection
On April 20 2017, the Iceland entrant was selected. It was chosen that Birgir would represent Iceland with his single "Last For Song".
At ESC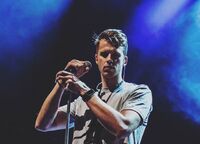 At the allocation draw, Iceland was drawn to compete in the first semi-final. At the running order draw in the first semi final, Iceland was drawn to perform sevententh, following Czech Republic.
Both the semi-finals and the final were broadcast by RÚV. George was the final and semi-finals television commentators respectively. Kristbjörg Kjeld was the spokesperson that announced the Icelandic voting in the final.
Voting
Points awarded to Iceland
Points awarded to Iceland (Semi-final 1)

| 12 points | 10 points | 8 points | 7 points | 6 points |
| --- | --- | --- | --- | --- |
| | | | | |
| 5 points | 4 points | 3 points | 2 points | 1 point |
| | | | | |
Points awarded by Iceland
Semi-final 1 votes

| Points | Country |
| --- | --- |
| 12 | Slovenia |
| 10 | Estonia |
| 8 | Poland |
| 7 | Israel |
| 6 | Czech Republic |
| 5 | Azerbaijan |
| 4 | Faroe Islands |
| 3 | Belarus |
| 2 | Belgium |
| 1 | Slovakia |

Final votes

| Points | Country |
| --- | --- |
| 12 | Greece |
| 10 | Malta |
| 8 | Kazakhstan |
| 7 | Poland |
| 6 | Denmark |
| 5 | Slovakia |
| 4 | Belarus |
| 3 | Azerbaijan |
| 2 | Italy |
| 1 | Austria |
See also

Iceland
in the Europa Song Contest
(Note: Entries scored out are when Iceland did not compete since their debut)